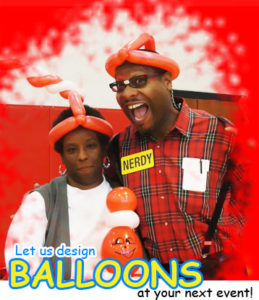 There is nothing more fun than balloons at a party or event. So, make the smart decision and hire Nerdy for your balloon twisting needs. He is full of energy and fun and a blast at any event!
When you want the clown like antics, but not a full face clown, Nerdy is a great choice for that as well. He is plenty of fun, his balloons are bright and visual, and he is dressed just goofy enough to keep the crowds laughing.
Click Here to fill out an event request form and to get information on his availability.

Contact: Phone: (314) 868-0770
Email: gobebegirl@aol.com
© 2014 BeBePaintz.com