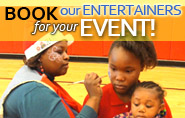 Face Painters are super popular at all types of events. Whether it is a birthday party or a corporate picnic, here at BeBe Paintz, we pride ourselves in our ability to bring smiles and fun to all types of events with our face painting.
Click Here for a link to our contact form for a quick quote. Every event is unique and special in its own way, but we have a few tips for when you are looking to hire a face painter below.
Most face painters can get to 12-17 children per hour.
Birthday party packages are affordable and fun.
Corporate packages are great for longer length events.We are here to help you have a great event! Be sure to let us know if we can help with any of your face painting needs.

Contact: Phone: (314) 868-0770
Email: gobebegirl@aol.com
© 2014 BeBePaintz.com